Give your Sales team the power to create remarkable buying experiences
The Jobs we help you do better…
Equip your team with all sales content
Ensure your latest and greatest content is used with a central sales repository to put the collateral in the hands of your teams.
Share in seconds
Using simple filtering and search, Sales reps can put together a collection of relevant content in a snap.
Increase content usage
The majority of  Sales content is heavily underutilised.  Make discovering and sharing your content easy and unleash the true power of great content.
Learn what your prospects are thinking
Track everything down to the amount of seconds spent on a single page. Figure out your next move based on your customers last.
Differentiate yourselves
What if you could stand out? Make a real difference to your prospective customers by rolling out the red carpet. WOW your buyers.
Measure what's effective
What are they reading? What are they not? Don't keep flying blind to how engaged your prospects truly are. See every second they spend viewing your content.
Build a bridge between Sales and Marketing
In four simple steps your content portals will be ready for your customers today.
Trusted to deliver content to thousands of live opportunities every day
New Stakeholders activated
Hours spent viewing content
Deliver your content like never before
Customised Content Portals give your customers the experience they deserve throughout your complex buying cycle in one place. Differentiate your sales process from your competitors', roll out the red carpet and make buying decisions easy for your customers.
Everything your buyers need
Drawing from the company repository of files, images, videos, and web embeds-your portals contain everything you want to share with your prospective customers, and guide them through your sales process.
Access to Key Stakeholders
You can share a portal with anyone that is involved in the selling or buying process. Low friction sharing allows your initial contacts to invite their colleagues getting you access to critical new contacts and decision makers.
Your Branding
Your customers will see a personalised spaced that you have created for them. Setting you apart from your competitors and displaying real intent to provide a great experience.
Why your Account Execs will love it…
Two-Click Creation
Have a customised content portal delivered to your customers in less than 30 seconds with two click creation. No time wasted digging through their documents or messy desktops.
All Shareable content, One place
Every asset, every file, every document that can help your team educate their customers and move them towards the close, is in the repository. Filters, tags, and search make finding the right stuff a dream.
Analytics galore
Find out exactly what every individual has engaged with. Down to the amount of seconds spent viewing each page, you get granular analytics to know exactly what interested them.
Wow, the content gets used
Your product marketing teams will finally have their content see the light of day. Now it's getting used, you can use the engagement data to help inform what works, what doesn't, and what they should create more of.
Amazing buyer experiences with ease
Creating a custom content portal for your opportunities makes them feel valued and cared for. This perceived effort from your sales teams goes a long way to building a solid relationship with which to build the deal around.
Take back control of your content
With a centralised repository, you can push universal content updates that will update the content files across all customer portals. Changed your logo? No worries, a single click and you can have your new branded content in front of your whole customer base.
All engagement data fed straight into your CRM
To ensure that all of your customer engagement is tracked and accounted for, we sync all activity with your CRM. Content views, time spent, new contacts found – all of this is attributed to the individual and visible on the opportunity for a high-level glance at the engagement level.
All Activity synced
Pages viewed, Time spent, files downloaded, colleagues invited. We feed it all into SalesForce.
New Contacts added
Any new stakeholders accessed through portal shares are created as contacts in the CRM, maximising your penetration of the account.
At a glance metrics
Core engagement metrics are displayed on the opportunity screen in SalesForce to give you a high-level quick view of how engaged an opportunity is with your content.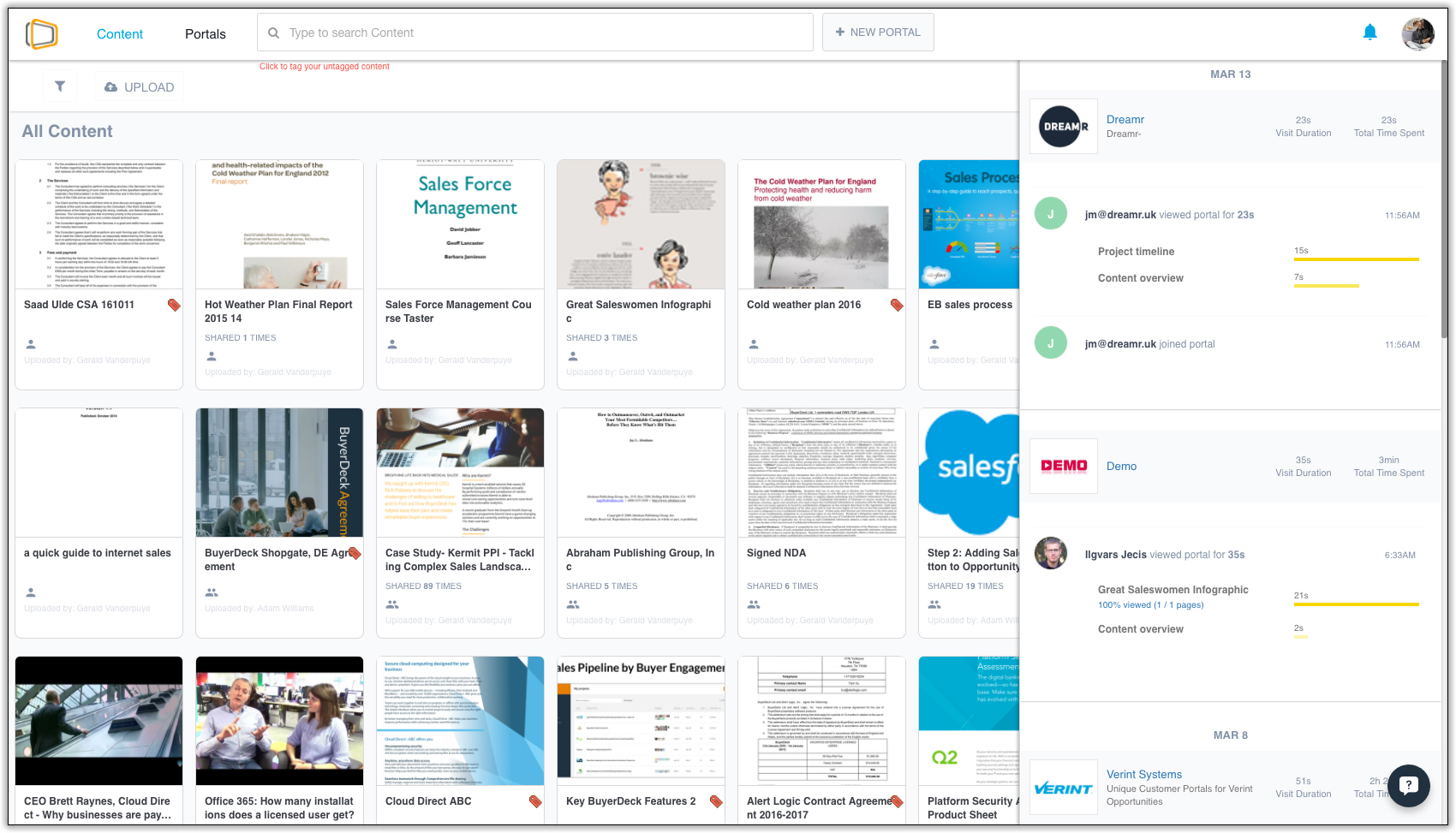 Hear what some of our customers are saying…
BuyerDeck is a great platform for my reps to make sure they are following the critical steps in the GoodData Sales Process. It also allows us to bring our prospects closer to us by allowing effective communications through numerous visuals to help both GoodData and our prospect understand the steps to partner. It helps set us apart in the marketplace.
Bill Lapp
Fantastic product. Bringing visibilty into the buyer's process, access to above the line C-level buyers that you might never engage with, seeing what information is working, what's not, and most importantly, closing more business, closing better deals, and creating happier customers.
Mike Shaughnessy
A breakthrough platform for Sales that aligns the seller with the buyer using social technology. It has allowed my teams at two companies now to increase our win rate, get more influencers and decision makers to the opportunity, engage partners, and get rid of email trails all while greatly improving communication and collaboration with the buyer.
Jim Hilbert
I love BuyerDeck's seamless online portal to collaborate on projects with prospects and clients. My favorite feature is the analytics they provide on how users have engaged with different materials. I feel more in control of my pipeline and I like being able to review my colleagues' business cases.
Matt Mckeever